Soft Landing
Chesterfield Observer
by James Haskins   October 29, 2014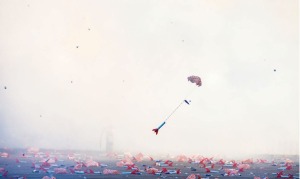 On Sunday, Sanzio Angeli and Dylan Whitesel launched 3,973 rockets at the Chesterfield County Fairgrounds to raise money (about $20,000) for breast cancer research. The launch also surpasses the current Guinness World Record of 3,130 simultaneously launched rockets… Visit Chesterfield Observer website

Students Break Rocket Launch World Record
KONO101.1  San Antonio Texas October 27, 2014
After months of fundraising and hard work, two high school students in Virginia launched more than 4,000 rockets at once to break a Guinness World Record… Visit Website
Today in Pictures
Alabama  www.AL.com  October 27, 2014
Setting a tentative world's record for sending the most rockets skyward simultaneously, two Chesterfield County, Virginia teens, Dylan Whitesel, 18, bottom left, and Sanzio Angeli, 17, second from left, raised $20,000 for cancer research by launching 3,973 model rockets at Chesterfield, Va., County Fairgrounds, Sunday, Oct. 26, 2014. The teens spent months assembling the rockets and finding sponsors for each and were inspired by Whitesel's mothers battle with the disease. (AP Photo/The Richmond Times-Dispatch, Joe Mahoney)  …. Visit Website
Students Break Rocket Launch World Record
Fox30 WFOX Jacksonville FL October 27, 2014

After months of fundraising and hard work, two high school students in Virginia launched more than 4,000 rockets at once to break a Guinness World Record… Visit WFOX Website
3.973 raketten schieten tegelijkertijd de lucht in
Arno Van Hauwermeiren – 28/10/14, 22u09  − Bron: wric.com
Twee jongeren uit de Amerikaanse staat Virginia, Dylan Whitesel (18) en Sanzio Angeli (17), haalden maar liefst 20.000 dollar op voor kankeronderzoek door 3.970 raketten tegelijkertijd de lucht in te schieten.
Dylans moeder vecht al jaren tegen borstkanker, haar strijd inspireerde de twee tieners. Ze knutselden maanden aan hun raketten en braken een wereldrecord met hun stunt, want het vorige record stond op 3.130 raketten. Ze kregen hulp van hun medestudenten en familie om de stunt tot een goed einde te brengen. "Ik denk niet dat Dylan en ik iedereen kunnen bedanken die geholpen heeft. We zijn zo blij dat iedereen ons zo hard gesteund heeft", aldus Sanzio.
Wie een raket wou sponsoren, moest 10 dollar neertellen. Zo verzamelden Dylan en Sanzio 20.000 dollar, dat integraal naar de Susan G. Komen Foundation gaat, de grootste stichting tegen borstkanker in de Verenigde Staten.
Bekijk hier de stunt van Dylan en Sanzio…. Visit website
BestVideoOnline.com
http://www.bestvideonline.com  October 26, 2014

Visit Best Video Online Website
Rocket4TheCure – New World's Record As Teens Launch Almost 4000 Rockets at Once
www.RocketReviews.com October 27, 2014
On October 26, 2014, High school students Sanzio Angili and Dylan Whitesel of Chesterfield, Virginia, raised $20,000 for the Susan G. Komen Foundation and broke a world record by launching 3973 model rockets at one time. Supporters sponsored the event by donating $10 for each rocket, many of which were labeled with the name of a person being honored or remembered…. Read more
ABC This Week in Photos
Joe Mahoney/The Richmond Times Dispatch/AP Photo October 28, 2014
http://abcnews.go.com/International/photos/week-photos-26490388/image-26490507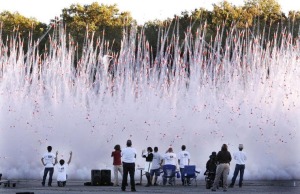 Setting a tentative world record for sending the most rockets skyward simultaneously, two teens raised $20,000 for cancer research by launching 3,973 model rockets at County Fairgrounds in Chesterfield, Va., Oct. 26, 2014. The teens were inspired by Whitesel's mothers battle with the disease and spent month's finding sponsors for the rockets.   Visit the ABC news website
Chesterfield Teens Launch Record Number of Rockets
www.richmond.com  October 27, 2014
A pair of Chesterfield County teenagers broke a world record by launching 3,973 rockets from the county fairgrounds on Sunday to raise $20,000 for breast cancer research.
The teens, with the help of family and friends, had been assembling 4,000 rockets for months in hopes that people would sponsor each one for the launch,according to the Times-Dispatch. Guiness approved them to make a record attempt and the two boys and their "expert witnesses" have to fill out paperwork to be approved for breaking the world record.  Visit the Richmond.com website
Chesterfield Teens Break Rocket Launch World Record, Raise Money for Cancer Research
ABC 8 News WRIC  October 4, 2014 By WRIC Newsroom Two high school students in Chesterfield broke a world record Sunday by launching almost 4,000 rockets at the same time. It's all in an effort to raise money for breast cancer awareness.  Rocket4theCure is a campaign created by seniors Sanzio Angili and Dylan Whitesel to raise $20,000 for breast cancer research and awareness.  They also broke a Guinness Book of World Record when 3,973 model rockets flew into the sky simultaneously.  The two friends have been working on building the rockets for a couple of months, getting help from fellow students, family and community members.  "I don't think Dylan and I can thank every body's who's helped. Especially our mothers, we're just so happy that everyone's been so supportive of our project," said Angili, a senior at Clover Hill High School.  The project is especially personal for Dylan—who's mom has been battling stage 4 breast cancer for years.  "Tons of people who have come out today to help build, help set up. It's amazing how many people took the time," said Whitesel, a senior at Midlothian High School.  It all came together Sunday at the Chesterfield County Fairgrounds.  Visit the ABC WRIC website 8NEWS – WRIC | News Where You Live  
Son hopes to honor his mother with record breaking launch
CBS 6 WTVR October 23, 2014 BY GREG MCQUADE CHESTERFIELD COUNTY, Va.   Dylan Whitesel and Sanzio Angeli are two Chesterfield teens making a name for themselves. The life-long friends want to break a world record by launching more than 3,130 rockets at the same time. But time is running out before Sunday's launch. They need help. That is why fellow students at Clover Hill High School and Manchester High School are answering the call. Since January, the pair has been setting their sights on launching thousands of model rockets into the sky all while raising awareness about cancer. Each rocket is sponsored and will carry the name of someone either battling cancer or who has lost their fight against cancer. Cancer is a disease that strikes close to home. Dylan's mother, Diane, has been battling cancer for six years. "It has been the best year of my life. It is not a year I was supposed to have. So, it's been a great year," Dianne Whitesel said. "That was my biggest concern. That I would die before he finished high school." Dozens of students have heard about their effort and have pitched in by building 4,000 rockets. It has proved to be a science experiment wrapped around a social movement for all involved ….. Visit the CBS 6 WTVR Website  
As rockets launch sky high, so can funds for breast cancer research
CBS 6 WTVR October 8, 2014 BY VIRGINIA THIS MORNING
RICHMOND, Va – High School Seniors Sanzio Angeli, of Clover Hill High School, and Dylan Whitesel, of Midlothian High School, hope to raise money and awareness for Breast Cancer research and break a world record at the same time. They are combining their love for model rocketry with community citizenship to create "Rocket4theCure." Sanzio and Dylan are selling model rockets for $10 each to be launched simultaneously, hoping to launch 4,000 rockets, which would shatter the standing record, all while raising money for The Central Virginia Affiliate of Susan G. Komen. … Visit the CBS 6 WTVR Website    
Rocket 4 The Cure
October 7, 2014 BY Robious Corridor Magazine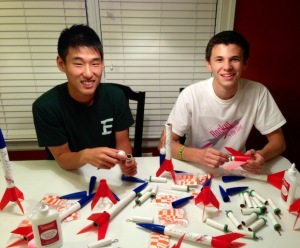 Sometimes a story begins long before the first word is written and continues long after the last passage is read. Such is the case with Dylan Whitesel and Sanzio Angeli. The two friends founded Rocket4theCure recently. The story doesn't begin there though, it began some time ago. A second grade class was taking a trip, just down the hallway of St. Edward Epiphany School, to the school's library. A curious boy, Sanzio, headed straight to the shelves that held books about NASA and space travel. He didn't have to ask. He knew where to go. He didn't know then what the future would hold for him. He didn't care either. All that Sanzio cared about was astronauts and rockets and space. Later that year, on his birthday, he was given a gift that would change his life. Sanzio didn't know that. All he knew was that the model rocket kit his uncle gave him was awesome. Dylan Whitesel met Sanzio at St. Edward's Middle School. Dylan and Sanzio talked about the same things, they liked the same things, and they did the same things. It was on that shared common ground that a great friendship was be launched. In the course of that friendship, they did a lot of things together, including building model rockets. It was around this time that life would throw Dylan's family into a tailspin. Dylan's mom, Diane, was diagnosed with Breast Cancer. Stage four. Dylan watched his mother begin the fight of her life. ….. Read more on the Robious Corridor website          
Chesterfield Students Launching Rockets to Stop Breast Cancer & Break World Record
ABC 8 News WRIC October 4, 2014 By WRIC Newsroom8NEWS – WRIC | News Where You Live
CHESTERFIELD COUNTY, Va. (WRIC) – Two high school students in Chesterfield have launched a campaign to raise money for breast cancer research. They're using model rockets– and they plan to break a world record at the same time.
"It's really exciting to have these boys turn something negative into something positive," said Diane Whitesel, who has been battling breast cancer.
Sanzio Angeli and Dylan Whitesel created Rocket4TheCure, a campaign to raise $20,000 for breast cancer research, awareness and treatment.
It's personal for Midlothian High School Senior Dylan. His mom Diane has been fighting Stage 4 breast cancer.
"When we started doing this project I was thinking, 'Wow this is a great thing for me to honor my mom and give back to this community that's helped keep her alive the past 6 years," said Dylan.
They plan to make history while they're at it.
"We were looking at YouTube videos and we saw the last group in college station Texas break the record and we thought, 'Hey we should break this record,'" said Sanzio Angeli, a senior at Clover Hill High School.
The goal is to launch 4,000 of rockets simultaneously.
"Probably the greatest challenge for us has been building all of the rockets," said Angeli.
But with help from family and friends, things are looking good two weeks before the big launch ….. Read more
Boys plan to break rocket launch record, raise money for breast cancer
Richmond Times Dispatch October 1, 2014
By John Ramsey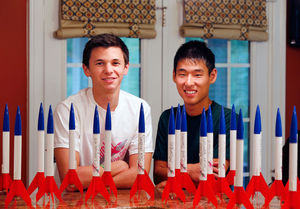 A world record will soon belong to two Chesterfield County teenagers if their plan to launch 4,000 rockets simultaneously this month works.
Seventeen-year-old Sanzio Angeli and 18-year-old Dylan Whitesel hope their ambitious plan will gain public support so they can recoup the $20,000 cost of the rockets and donate an equal amount to help fight breast cancer.
Sanzio has been tinkering with rockets as long as he can remember. Dylan has watched his mother struggle with breast cancer.
In January, they watched a 95-second video of Boy Scouts in Texas breaking the Guinness World Record by sending 3,130 rockets into the sky at once.
"We should break this," Dylan remembers them agreeing that day, a fantasy they are now on the cusp of making reality.
Not everyone thought it was possible, especially in a 10-month timeframe.  "We called a local pro rocket club. They told us this project is going to take at least two years to do and $100,000," said Sanzio, a senior at the Math and Science High School at Clover Hill High School. "They thought, 'You guys are nuts; it's impossible. Good luck.'"…. Read more
Rockets Pink Glare
Local teens to launch 4,000 rockets for cancer research
Chesterfield Observer September 24, 2014
By Jim McConnell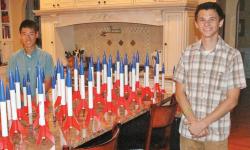 The countdown has begun for a pair of local teens hoping to raise money for breast cancer research and earn themselves a spot in the Guinness Book of World Records.
On Oct. 18, Sanzio Angeli and Dylan Whitesel will attempt to simultaneously launch 4,000 model rockets into the air above a yet to be-determined location in Chesterfield.
If successful, it would shatter the world record of 3,130, currently held by Jacob Smith of College Station, Texas.
Their effort is much more than an exercise in glory-seeking, however.
The high school seniors have created a nonprofit called "Rocket 4 the Cure," through which they hope to raise $20,000 for the Central Virginia chapter of the Susan G. Komen Foundation.
In exchange for a $10 donation, Angeli and Whitesel will dedicate one of their 4,000 rockets either "in honor of" or "in memory of" a friend or family member who has battled cancer…..  Read more
Chesterfield students hope to break world record, help stop breast cancer
WTVR CBS6, Richmond VA  September 22, 2014
By Nick Dutton and Wayne Covil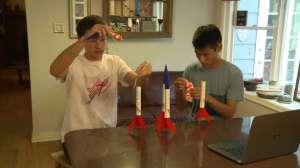 Click here to visit the CBS6 website to view the video interview
"The Napkin Notes Dad" Blog
September 23, 2014
I want to be upfront and transparent with you. I am not a big fan of the Susan G. Komen Foundation. The "pinkification" of cancer isn't something I support. Cancer isn't as simple as a color. (You'll see why this matters in a bit.)
My cancer "colors" aren't pink. Frankly, I don't even know what color ribbon I should have. Do I mix the two? Do I just show off two? Does my cancer color even matter?
I was introduced to a pretty awesome story the other day. There are a couple of high school kids that will break the Guinness Book of World Records for the most rockets simultaneously launched…. Read more